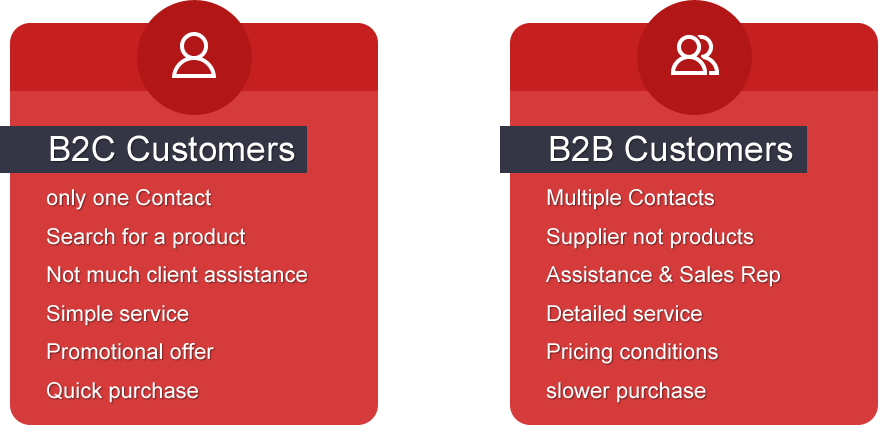 Why do we think you should choose Magento as your B2B e-commerce platform?
When it comes to e-commerce, all kinds of abbreviations come flying around; B2B, B2C, P2P, CRM, RFQ and what have you…Most readers will be familiar with B2C (being business-to-consumer) and B2B (business-to-business). In this blog we want to explain why we think B2B e-commerce platforms are (or at least should be) different from B2C webshops. After summing up some of the major differences we'll give you a few recommendations of how to use Magento as your B2B e-commerce platform.
1. Repeated Purchases
If you do your job well, a B2B customer will come back for more. Where a B2C customer is mainly interested in one-off deals, a B2B buyer is interested in more than that. He wants a supplier he can rely on, that he can get back to for repeated purchases. And preferably, a supplier that enables him to do that online (see our post on 'death of a salesman') and without going through the whole process again.

Yet, most of all, a B2B buyer needs to able to trust this supplier. Will he deliver the goods? And not just once, but also next month and next year? Yes, ease is important, the price is important, but trust is the big issue. Once that is established, repeated purchases will be done, you can be sure about it.

Want to get started?
2. Multiple Contact Persons
Other than with B2C buyers, it's not 'just a person' that will be a customer. It's a whole company. And within that company there are multiple people that will be involved in the buying process. Whilst for most B2C e-commerce platforms it will be enough to have one name, one email address and one delivery address, a B2B platform will need to be able to handle several of these. All within the same company. There's the guy that actually makes the 'buy-decision', there's the finances department that will handle the invoice, there's the warehouse that will receive the goods. And not only that. What do you think about multiple shipping addresses? One address to send a sample to, a different address to actually ship the goods to (yep, even multiple, worldwide) and an address to send the invoice to… Well, you get the point, a decent B2B e-commerce platform should be able to handle all these well, not just from your perspective, also from the customer's perspective!
3. Custom Products
B2C e-commerce is mainly about 'product-price-buy' (see the famous Amazon 1-click-ordering process). B2B is more about custom products. It may be that your customer needs a different colour, a different number of products in the box, a custom logo, a specific way to pack it, or of course a different price. A B2B webshop should be able to handle all the different possible configurations. In 'death of a salesman' we already described how B2B buyers prefer to buy online instead of through a salesrep. It's crucial that your webshop enables your customers to do the whole process online. From question, to quote, to buying, the whole online sales process.
4. High-level Service
Give your B2B customer a good reason to trust you before he buys. Why should he? How do you communicate your service, your warranty? Where in B2C 'price' is often leading, in B2B e-commerce there's so much more. Because even for the B2B buyers, there's more at stake. It's not just his money, it's his company's money, it's not just his wife he has to justify his purchase to, it's his boss. If this goes wrong, it could cost him his job! So, again, before he has to hit the 'buy here' button, give him a good reason to trust you.
5. Company Conditions
It's not just your 'terms and conditions' that count. Though these are indeed leading for most B2C companies, in the B2B world there's more to it. B2B companies have their own conditions before they buy from you. You have to be willing and able to serve your customers in the way they need it. Packaging, tier-prices, delivery, you name it. Again, it's about building trust, showing you're actually willing to help and not just make money of your customer.
6. Buying Process
You have probably bought stuff online as a consumer yourself. Books, clothes, dvd's, whatever. You have probably noticed that the way to check-out on any webshop is something like; choose your product, pay for it, get it delivered. Very logical. When it's B2C that is.
For B2B e-commerce however, a different order is needed. And that is something your e-commerce platform should be able to adjust to! Payments, for example, are often done only after the products have been delivered. Now, if your webshop is not able to facilitate that you're in trouble. Same thing goes for invoices. Your B2B clients need specific data on the invoice; addresses, PO numbers, product codes, tax, etc.
You would be wise to investigate what different processes you should be able to handle and make a real effort to smoothen your online channel to do it well!
Your B2B e-commerce platform. We recommend:
We want you to do well. And we know that for your B2B e-commerce, you have to choose wisely. That's why we want to give you some advice on the topics we mentioned above. Do these well and you'll have a good chance your B2B e-commerce channel will lead to success!
Repeated Purchases

: CRM is a big thing. Customer Relationship Management. We think you should look at the platform that will enable you to streamline this; your backend, your office and your webshop should work seamless if you want to do this well. This will obviously enable you to have all information in one place; order history, customer addresses and names, etc. If you use Magento as your B2B e-commerce platform, you can choose from many great CRM systems. These will not only help you but also enable your customers to have access to all the (order) data they need. That way it will be extremely easy for your customers to repeat orders or make small amendments to previous orders. And that's a big thing; make ordering easy for yourself and your clients.
Multiple Contact Persons

: Other than with B2C, where you deal with mainly 1 customer per address, in B2B you have to enable your clients to add multiple contacts per company. Purchase department, warehouse, finances, they all need to be able to access data. Again, with your Magento B2B e-commerce platform you are able to add extensions that will enable your customers, and yourself, to handle multiple contacts well.
Custom Products

: Can your e-commerce platform handle custom options per product? It should! This is, again, a big thing for B2B customers. They need this specific product BUT with this logo, colour, packaging, you name it. Now, what is specific for B2B customers, is that they normally want a quote before they actually 'buy now'. Cart2Quote is the perfect extension for B2B webshops to enable your customers to get a custom price. WIthin seconds your customers can get a price with all the details the need. And for you as the webshop owner, it's easy as well. All from your site's backend, you can manage, change, send and process the quotes. A big time-saver and lead generator!
High-level Service: Trust is key. Look for ways to communicate that your main purpose is to serve your clients. And live up to it, obviously. It's really important that all your information is accessible, clear and meeting your clients' needs. Is your website, your tone-of-voice, aimed at selling or serving? We recommend, make service leading. That is, if you want your customers to come back and buy again. One of the main things is then that you are open, clear, transparent about your prices. Give a quote before they have to buy. Send invoices afterwards. Simple things if it's B2B, but not always standard procedures when it comes to ecommerce platforms.
Company Conditions

: We recommend that if you're going to use a ecommerce platform, do it well. Not 'just for sales' or 'just to show what we have'. Add RFQ functionality, let your customers define what they buy, empower them to play their part in the process. We think Magento can help you with just that!
Buying Process

. Even though we love Magento, we know it takes some extra extensions to make it work like a charm as a B2B e-commerce platform. On Magento Connect you'll find many extensions that will make doing online business easier and better. We have, of course, pointed out the RFQ extensions from Cart2Quote. This will help you and your customers to negotiate a price and conditions all from your Magento backend. But there are loads more that will help you to do B2B well online!
So. Magento it is?
Well yes. If you are considering to bring your B2B company online, use Magento as your B2B ecommerce platform. But look for extensions that will help you to go from B2C to B2B functionalities. Think about quotes, processes, invoices, contacts et cetera. Better to spend some time and money now than pay more afterwards!
Want to find out what our Cart2Quote's module for Magento 2 is capable of?
Rather schedule a 30 minutes walkthrough instead?